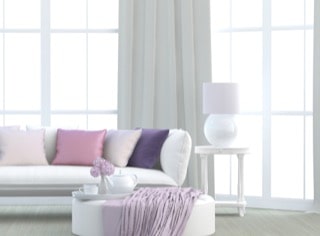 Today we are sharing 5 easy living room makeover ideas with you.
Giving your living room a fresh, new look will add vitality to your entire home. Even a few, simple changes can dramatically alter the look and feel of your living space.
Here are 5 Easy Living Room Makeover Ideas to refresh your style and transform your living room.
#1 – Add a Pop of Color
It's amazing how a few, simple touches can brighten up an entire room. If your drab, bland living room is bringing you down, adding some colorful, new accent pieces is a quick, affordable way to liven up the whole room.
Incorporating bold colors and patterns into your living space is a fun, exciting way to add personality to an otherwise boring room. Simply adding a pop of color here and there can bring the whole room to life.
Stylish yet affordable accent pillows are a quick and easy way to incorporate vibrant colors and patterns into your living room without going over-the-top. Opt for pillows that complement and enhance your living room's existing style and color scheme.
Decorative throw pillow cases make it easy to brighten up your couch, sofa, or lounge chair.
Because throw pillow cases are so affordable, and available in such a wide range of colors and styles, you can be creative and experiment with a variety of unique looks. Even if your personal style tends to be on the conservative side, small accents like throw pillows are a subtle yet fun way to add a touch of excitement to even the most traditional designs.
#2 – Create the Illusion of Space
Next up in our list of living room makeover ideas uses simple design tricks to create the illusion of space. This can make even the smallest rooms feel more open and airy. A cramped and cluttered room can make you and your guests feel claustrophobic and uncomfortable. Rearranging your living room furniture and décor, and adding decorative wall mirrors, can really open up the space and make the room look and feel larger.
Mirrors reflect light to make rooms appear larger and brighter. Decorative mirrors also add color and style to a room.
No products found.
#3 – A Bright Idea
Lighting sets the tone for a room's ambience and atmosphere. Changing up the lighting scheme in your living room can literally, and figuratively, help you see the room in a whole new light.
An elegant modern floor lamp provides a warm glow and complements a variety of design styles.
A decorative table lamp with a unique design is almost like a work of art. These stylish lamps are not only practical, providing light for reading or relaxing on the sofa, but they also serve an aesthetic purpose.
Candles certainly aren't the most practical lighting source, as the amount of light they emit is fairly limited. However, adding decorative candles to your living room is a great way to create a warm, homey atmosphere and make the space feel cozy and inviting.
Scented candles fill the room with a soothing, relaxing aroma that makes you feel right at home.
No products found.
#4 – Add Wall Art
Well-placed wall art can serve as a focal point and tie the whole room together. A unique art print or canvas provides interest and serves as an excellent conversation piece.
Drab walls with blank, empty spaces can make a room feel incomplete, impersonal, and even clinical. Sprucing up your walls with a fresh coat of paint or some decorative wall art helps create a cohesive style for your home's design.
Choose wall art that matches the style and color scheme of your living room. For example, if your living room has a rustic, country theme, a wall art print of an idyllic, farmhouse scene would be the perfect addition to hang over the mantle. B018J1PU8S
Wall art is a great way to express your individuality and make your house feel like a home. Surrounding yourself with artwork that reflects your personal interests and style makes the space your own.
Artwork with sentimental meaning can evoke fond memories for you and your guests. A scenic landscape of your favorite vacation destination, for instance, can make you feel as though you've been transported to a special place.
For an even more personal way to decorate your walls, create a framed collage of your favorite family photos.
You don't need to spend a fortune to incorporate art into your home. Quality canvas prints are affordable yet stunning recreations of your favorite works of art.
Most of us could never afford an original painting from a legendary artist like Claude Monet. However, we could bring a recreation of a classic masterpiece into our home with a striking, yet reasonably priced canvas art print.
#5 Invest in a New Area Rug
The last tip in our list of living room makeover ideas is the creative use of area rugs. Although area rugs can be decorative, they also serve an important, practical function. The soft, warm feel of a comfy area rug makes your living room a cozy sanctuary where you can relax and unwind. Rugs also protect and accent your floors, and define the space and style of the room as a whole.
Stylish area rugs that blend traditional elegance with modern trends are a fashionable way to revitalize your living room.
If you're feeling bored with the bland colors of your living room walls or furnishings, a colorful accent rug with a bold design can liven up the entire room. A chic, bohemian rug, for instance, can add a vibrant, artsy flair to an otherwise dreary room.
5 Easy Living Room Makeover Ideas Conclusion:
Most of us don't have the time, money, or patience to replace every item in our living room. Living room furniture, in particular, tends to be a costly, long-term investment.
However, there are quick, cost-effective ways to spruce up your living room without breaking the bank. Decorative accents like wall art, mirrors, throw pillows, area rugs, candles, and lamps tend to be less expensive and easier to transport than items like sofas and coffee tables.
Try these 5 Easy Living Room Makeover Ideas and enjoy your beautiful, "new" space!
What are your favorite ways to change things up in your living room? Let us know in the comments below.
You might also enjoy our article about the latest home interior design trends for 2018 https://www.totalhomehq.com/home-interior-design-trends-for-2018/
Last update on 2023-01-27 / Affiliate links / Images from Amazon Product Advertising API