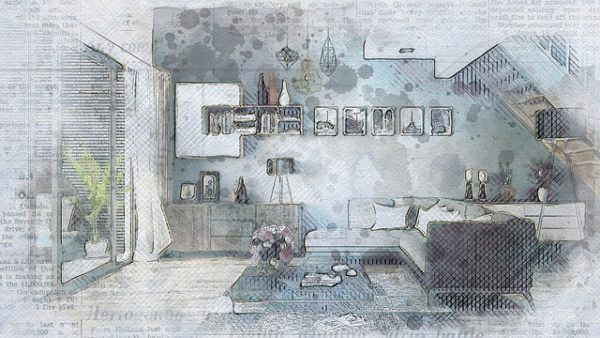 The best home interior design trends for 2018 are here!
Would you like to envision your home with the latest decor? Do you want a fresh new space to live and play in?
We will help you find beautiful pieces that will make your home look amazing.
Here are the five top home interior design trends for 2018.
Home interior design trends for 2018:
#1 – Indoor Hanging House Plants
Not only are indoor house plants beautiful, but they can also improve the air quality in your home. Indoor house plants became a big thing last year but will still be with us for 2018. If you don't have a green thumb you can also try indoor faux plants instead (which may be best if you don't have great interior lighting or travel frequently.)
When decorating with plants you should try to have fun with it. See them as a piece of art. They can be placed on shelves, spaces where there are gaps, and in corners. Hanging plants from the ceiling also looks great. This can create a focus at different heights and brings interest to the room. Consider air plants in clear glass hanging planters, as these are beautiful and easy to care for.
No products found.
12 Piece Tillandsia Air Plants
No products found.
Set of 6 Hanging Glass Globe Plant Terrariums
You can layer plants together that are small, medium, and large. Vary from single to clustered, and group in odd numbers. You can create an interesting look with small succulents and tall cacti in this manner.
#2 – Natural Eco-Friendly Materials
Along with indoor houseplants, natural eco-friendly materials are in for 2018. Try to find things with an Earthy feel to them. You might consider natural sisal hemp or dye-free wall hangings.
These materials help connect us with our origins, making even large spaces inviting. Natural textures give sophistication to a surface. New technology makes it easier for interior designers to use natural finishes, making something like a wooden beam become more durable without changing its aesthetic.
Bringing nature into your home will help make it stand out from the sea of beige and white, especially in apartment living. Here are a couple of examples of eco-friendly furniture that can really bring a new look to your home:
No products found.
Malibu Lounge Armchair ECO Natural Rattan Wicker
No products found.
Malibu Rattan Wicker Living Room Set 3 Pieces
#3 – Velvet Window Curtains and Accents
Do you want to live like royalty? Velvet is back! It's totally acceptable to have pillows, furniture, and bedding that are mid-century inspired. You can do this in an array of colors, as well.
Velvet is synonymous with luxury, but now velvet is starting to become more mainstream, mainly because of new changes in the technology used to create the fabric for use in your home.
Velvet used to be easy to stain, stiff, and available in limited colors. Now you can commonly find velvet accents that are soft and plush. There are a number of low maintenance fabrics to choose from that are machine washable and stain resistant.
If you still aren't sure about it, try a small accent pillow. You may find yourself looking for luxurious velvet window curtains in no time.
No products found.
TangDepot Solid Velvet Throw Pillow Cover
No products found.
Cherry Home Set of 2 Classic Blackout Velvet Curtains
#4 – Wall Art Galleries
Have you been on Pinterest lately? Wall art galleries are still in for 2018. Now you can cover that awkward wall with stunning art and make it look amazing.
You'll want to find a theme unless you are going for something more bohemian. In that case, you will only need something to tie them together, perhaps a color.
Choosing the right colors for your wall art can lift your mood. By using similar shades of blue as an example, you can really tie the room together by using accent pillows of the same color.
You can take it one step further with a color palette, such as gray, blue, and green.
Also consider art style and the art medium. Try matching frames, a sequence of photos, or all printables that are easy to find and purchase online. This creates a collection and makes a bold statement for your home.
No products found.
ARTLAND Modern 100% Hand Painted Flower Oil Painting on Canvas 3-Piece Gallery-Wrapped
No products found.
Dzhan Wall Art Canvas Prints The Birds 4 Pieces
#5 – Bold Prints
In 2017 it was muted prints and 2018 is just the opposite. You'll want bright and bohemian prints. These can be pieces that make the room whether it is an area rug, bedding or a gorgeous duvet.
You may have seen tropical patterns in 2017, and those are here to stay. They are exotic and beautiful. They'll look great with those houseplants from the first trend on this list! White, beige, and neutral colors are phasing out. Large green leaves and bold colors on one wall can create a unique environment.
Floral patterns are also in. They are an evolution of the tropical print and are pretty much everywhere. Geometric patterns when used sparingly can add interest to an otherwise drab room.
Tribal patterns and prints have been making their way into our homes. They have intricate patterns and lovely bright hues.
No products found.
MKXI Soft Cotton Reversible Duvet Cover White Green Leaf Botanical Garden
No products found.
FADFAY Home Textile Pink Rose Floral Print Duvet Cover Bedding Set
In conclusion:
There are some amazing home interior design trends for 2018. These interior design trends can be used to make your home feel modern and stylish.
Indoor houseplants not only add beauty and nature to your home but also make the air cleaner. You can arrange indoor houseplants and combine various varieties in different ways for a unique look. If you don't have a green thumb, then you could also try a fake plant, which looks so much more realistic now than they used too.
Natural eco-friendly materials and fabrics look gorgeous and help the environment. These natural fabrics also can make your home look original.
Mixing in some velvet accents can bring a lush feel to any room. New types of velvet fabric are easier to care for and undoubtedly as beautiful today as it once was years ago.
Finally, with prints, go bold, and perhaps tropical. Tropical plant leaves are just as beautiful on a duvet as they are in a pot. What are your best home interior design trends for 2018? Please feel free to share them with us in the comments.
If you are looking for something really fun for your kids to play on out in the backyard, you might be interested in our review of The Best Outdoor Playsets Your Kids Will Absolutely Love!